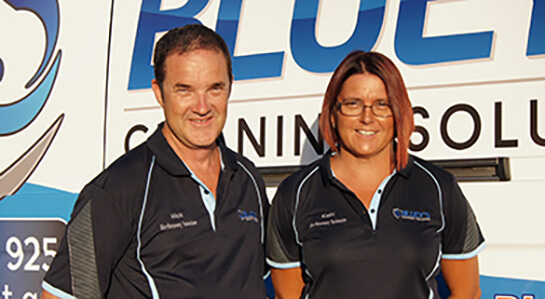 Blueys Cleaning Solutions is proudly family owned & operated by Kathi & Mick Byrnes, since 2008 we have serviced the Macarthur areas of Sydney and South East Queensland since 2014, specialising in bio-recovery & forensic cleaning whilst providing a comprehensive cleaning, maintenance & property restoration service.
Our services go above & beyond standard cleaning practices, our philosophy & core values reflect our commitment to offer a service that surpasses even larger corporations by providing meticulous & thorough work ethics with the dedication to accomplish high standards on all assignments.
As an integral part of our domestic, commercial & industrial cleaning services, the skills, experience & qualifications required to perform biohazard remediation & specialised cleaning roles has placed our team at the forefront of property restoration roles in Queensland & indeed Australia for forensic cleaning services.
The realisation that you now have access to a provider who is committed to exceed your high expectations & rise above standard levels of service is the right time to call our team.
To provide a total & innovative cleaning service, with a highly motivated & loyal team of specialist, who are trained, certified and experienced to maintain & restore hygienic conditions for properties whilst focusing on our core work values.
Pride
We are proud of what we do, being meticulous & thorough ensures only the highest standards of service & workmanship are achieved. To have pride in your work is to believe in the purpose of doing it.
Ownership
Being accountable on a personal level whilst promoting corporate goals & team collaboration creates the confidence to achieve whilst doing your best work, knowing that help is always at hand.
Loyalty
Focused on our client's requirements & accepting the challenges for these areas builds customer confidence & longevity as a preferred contractor.
Integrity
Personal integrity & strong moral principles are the building blocks of responsibility & accountability for our decisions. Making the conscientious choice to perform at your best before doing so can only result in positive outcomes.
Commitment
Focused on the future with a firm grasp on the present, our core work values provide the structure & commitment to provide our customers with a service beyond their expectations.