Regupol floor coverings in a commercial environment has allowed property owners to benefit from the durable characteristics of this hard wearing & hygienic floor type, whilst protecting the appearance & longevity of this unique resilient like floor covering for many years now.
Regupol is a permanently elastic material that can be supplied in rolls, sheets or even moulded into shape. Suitable for all applications where impact sound & vibration control is crucial, whilst being durable & resistant to mechanical loads. It is often utilised for a wide variety of sports & gym surfaces, commercial floor covering, sound & impact protected environments, building protection, vibration control technology and anti-slip applications.
All commercial floors, including a quality product such as Regupol are subject to extreme conditions where an effective cleaning program is very important from daily dry particulate removal, quick stain cleaning & regular restorative cleaning. In a perfect world, this would be great but in reality staining can occur even with Regupol products, often the result of improper cleaning techniques & maintenance issues.
In a commercial environment, especially sporting facilities & industrial sites, ensuring Regupol floor cleaning & maintenance services are conducted in accordance with the manufactures guidelines is highly recommended to protect your investment & ensure product longevity.
In particular,
Avoid exposure of Regupol to petroleum based products (oils, fuels & caustic chemical etc) that can stain or damage the surface;
Bodily fluids, including sweat or blood should be well cleaned using an approved cleaning & sanitizing agent shortly after sporting events or where staining has occurred, to eliminate the risk of indirect exposure & transmission of bloodborne pathogens;
All cleaning solutions should be 'PH' Neutral, where an effective wash & rinse system is in place to remove detergent residue to limit post soiling issues;
Delamination from substrate flooring due to damage or movement should be rectified or replaced quickly to limit further problems.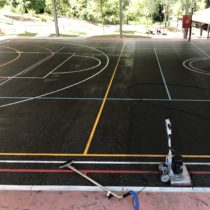 Having said that, Bluey's offer Regupol floor cleaning solutions as a specialized area of our commercial floor cleaning service from the Gold Coast to Brisbane.  With technical & product support from manufactures & suppliers, using only approved detergents & sealers together with specialized cleaning equipment our team will ensure your Regupol floor cleaning program is restored & managed for you to enjoy this amazing product for years to come.
Professional & competent Regupol floor cleaning on the Gold Coast to Brisbane by IICRC trained technicians. Bluey's commercial floor cleaning, the right choice.