Vacant residential or commercial buildings provide the perfect opportunity for vagrant habitation, anti-social behavior, drug use & vandalism. Often, police are called to move on squatters where property damage & abandoned hazardous waste becomes apparent, where prompt remedial action is the key to protecting your property from further damage.
Owners are left with properties that require specialized cleaning to remove contaminated waste such as drug paraphernalia, including used syringes, drug packaging, water pipes (bongs) to cigarette butts & human excrement where the likelihood of exposure to infectious blood bourne diseases such as Hepatitis & HIV is a real & dangerous possibility.
These dangers may also be present in unruly tenants, evicted or exiting rental properties leaving behind a trail of destruction & worry for their respective landlord or owners. A duty of care exist for all property managers & owners to ensure homes & commercial sites are safe for habitation following incidents of this nature, that equates to a legal onus for professional cleaning as a pre-requisite with a reputable company, to protect your legal interest & safety of your clients.
Safety Is Paramount !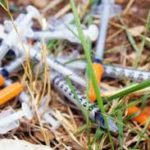 To effectively perform a squatter cleanup in vacant or trashed properties effective safety measures should be adhered to including the use of correct protective clothing (PPE), organic vapour mask & needle removal equipment. All waste should be disposed of in accordance with EPA guidelines & not left outside for kerbside pickup to limit scavenging or potential for injuries to the public. Providers should complete a written report of their services & perform verifiable hygiene testing (ATP) to ensure the property is safe & habitable.
The team at Blueys Cleaning  are specialist in biohazard cleaning & waste disposal of this nature, to control the risk of exposure to bloodbourne pathogens & ensure this waste is not abandoned posing a community threat our team undertakes a rapid response, completing a thorough assessment before managing dangerous items & sharps, removing waste for disposal at approved sites, before completing a comprehensive bio clean & disinfection service to make sure the property is safe for new tenants or owners.