Trauma incidents resulting from an illness, injury or accident, where blood or other bodily fluids cause environmental contamination to a property, can pose a significant biological hazard. Whichever it is, when you or someone you know has experienced a trauma, the last thing you want to do is clean it up. And it's the last thing you should do.
Trauma scene cleaning requires special training—biological matter like blood and other bodily fluids pose a health hazard and need to be addressed safely. For more than ten years, Bluey's Cleaning Solutions' Forensic Cleaning Technicians have performed trauma scene cleaning and biohazard cleanups with compassion, care, and the highest ethical standards.
Cleaning the scene of a trauma is not just about cleaning up blood and biological matter. These scenes are prone to infectious pathogens and are dangerous. Trained professional should handle blood, bodily fluids, and other types of bodily matter to ensure they are properly-and safely-cleaned.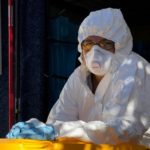 Our forensic technicians are dedicated and compassionate, and qualified to manage all aspects of restoration duties to ensure properties affected by trauma are safe and hygienically cleaned for occupants.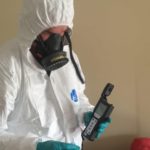 To ensure the highest standards of service are achieved we are committed to maintaining a high degree of expertise in our field, developing & reviewing decontamination processes in line with industry advancements & technology by ensuring our technicians are –
• Trained & certified by the Institute of Inspection Cleaning & Restoration Certification (IICRC) & other organisations.
• Qualified in specialised areas including – Health & Safety, Carpet Restoration, Hard Floor Services, Flood, Fire & Mould Restoration, Clandestine Drug Labs (Methamphetamine & Cannabis), Contents Recovery & Furniture Cleaning.
•  Certified Bio-Recovery Technicians by the American Bio-Recovery Association (ABRA) for forensic crime & trauma cleaning, biohazards, sewage abatement, disease management & infection control.
• Managed by an experienced crime scene investigator with over 20years policing & emergency service skills & training.
Call us today for professional help with your trauma clean up job.