A biohazard cleaning service involves the safe assessment, containment & decontamination of biological hazards, primarily pathogenic organisms & toxic substances within blood, bodily fluids & other potential infectious material. It is vital to eliminate the risk of exposure & infection to disease causing organisms or hazardous material that can exist in these unsafe environments.
What is a biological hazard ?
Biological hazards affect the health of living organisms, primarily the health & safety of people may be severely impacted by exposure to a biological source. This may include crime & trauma scenes where blood or other bodily fluids are present, toxic human waste & communicable or contagious diseases.
Exposure to biological hazards may occur through direct contact, inhalation, ingestion or secondary contamination through environmental conditions.
Did you know that a biohazard cleanup requires special training ?
Biohazard cleaning requires Bio Recovery technicians to be professionally trained & certified to International Standards (IICRC & ABRA) to comply with Australian Health Regulations, insurance & industry guidelines. Technicians understand the hazards, systems & procedures to achieve a safe property decontamination. A failure to understand potential risks, follow industry guidelines & scientifically proven methods can contribute to unhygienic conditions prevailing.
Most commonly, biohazard cleaning is needed in the aftermath of a trauma, a violent crime, an industrial accident, disease outbreak, the discovery of an unattended death, toxic chemical hazards or the result of a natural disaster. When in doubt if you require a bio clean, consider that exposure to hazardous materials can cost millions of dollars in litigation & more importantly human lives.
One call and our bio team will promptly attend, assess & safely manage all aspects to restore your property, safely removing & disposing of hazardous substances in accordance with Australian Health & EPA Regulations to protect your most valuable assets .
Biohazard Cleaning Situations:

Our biohazard team provide the safe cleanup for many hazards, including:
• Crime & Trauma Scenes
• Blood & Bodily Fluids
• Sewage Overflow & Faeces
• Disease & Infection Control
• Mould Cleaning & Remediation
• Odour Remediation
• Hoarder & Derelict Homes
• Cigarette Smoke Damage
• Meth Lab Cleanup
For a confidential discussion, speak to a technician today – Ph. 1800 925 925
Common Biohazard Situations
Bloodborne Pathogens
Bluey's technicians safely remove & dispose of blood, bodily fluids, faeces, tissue & other potentially pathogenic substances resulting from accidents, criminal acts, trauma scenes or death. Trained & experienced technicians disinfect & deodorize the property for safe habitation.
Sewage Backup & Overflow
Sewage cleaning & waste water contamination is more then just vile & smelly deposits – this biohazard can introduce harmful micro-organisms into your property that pose health & structural damage. Blueys Cleaning Solutions will remove the sewage, contaminants, moisture & odour for a total recovery solution.
Mould Remediation
Mould cleaning is recognized as an important factor to manage indoor air quality. Remediation follows both Australian & International guidelines for the property assessment, containment & safe removal of mould contamination.  Blueys Cleaning Solutions are trained & utilise advanced equipment & systems to safely restore your property in an efficient manner.
Meth Lab Cleanups
The illegal manufacture of drugs such as methamphetamine leaves behind volatile toxic chemicals & residues that can remain on surfaces indefinitely if not cleaned correctly.  Bluey's technicians are qualified to assess & remediate this harmful chemical following guidelines introduced by the Australian Crime Commission (ACC) to restore your property safely & efficiently.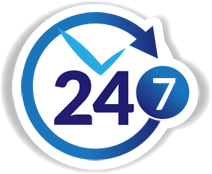 24hr Emergency Response
Biohazard situations don't always follow our daily routines & often occur at irregular hours of the day or night. That is why Blueys Cleaning Solutions are available 24hrs a day, 365 days a year.
Certified Technicians
Our biohazard cleaning technicians are dedicated & compassionate, whilst being qualified to manage all aspects of biohazard cleaning to ensure affected properties are safe & hygienically cleaned for occupants.  At a minimum a technician & business should possess these qualifications & services to meet the challenges of remediation duties –
• IICRC Qualified – Trained & certified to the highest standards by the Institute of Inspection Cleaning & Restoration Certification (IICRC) for 'Hazardous'  incidents, the right knowledge & experience to serve you better.
• ABRA Certified – Technicians have completed the American Bio-Recovery Association (ABRA) approved Bio-Recovery course in Forensic Cleaning, which covers biohazard restoration, odour abatement, disease management & infection control.
• Restoration Skills – Bluey's Technicians & management have completed all aspects of general services – Health & Safety, Carpet Cleaning, Hard Floor Services, Flood, Fire & Mould Remediation, Drug House Cleanup, Upholstery & Leather Cleaning & Contents Restoration through IICRC.
• Police Training – The management team of Blueys Cleaning Solutions has over 20 years of policing experience to support our clients & technicians, with the knowledge & technical experience required to perform forensic cleaning & comply with Government Regulations.
Health & Safety Issues

The response to a hazardous situation, can not be taken lightly, relevant safety measures & personal protection equipment (PPE) is paramount. In these situations the potential for injury either directly or as a result of this work is ever present, whereby our technicians utilise all safety measures appropriate to manage infection control of bacteria & viruses, toxic chemicals & fume inhalation, needle stick injuries, horrendous odours of decaying bodies, whilst complying with Australian regulations to complete these duties.
As most interactions of this nature are very traumatic & resulting from a crime or violent incident, we encourage our clients not to enter the scene unless absolutely necessary, not only for possible biohazard contamination but the psychological impacts traumatic scenes may leave upon victims & their families.
Australian Regulations & Employer's Responsibility

A 'Duty of Care' exist for all employers to ensure the welfare of their staff & clientele under provisions of the Work, Health & Safety Act 2011, where health & safety is a major component of management responsibility. Procedures must be in place to identify & respond to a biohazard situation to evaluate the potential for exposure & define the companies response as part of employers Health & Safety Plans.
Further guidelines to evaluate potential biohazards within the workplace are detailed within the  Environment Protection (Waste Management) Regulation 2000. Some common issues you should be aware of :-
Do you know if your current contractor is certified or at least trained to clean biohazards ?
Can you legally ask an employee to cleanup a hazardous substance such as blood ?
Contact our trained professionals for further information or a site evaluation – Ph. 1800 925 925 today.
Bio-Recovery Roles & Responsibility

Biohazard Cleaning involves the collection & effective sterilisation of hazardous waste, bodily fluids, toxic chemicals, sewage & infection control of bacteria & viruses. To effectively contain biohazards the source of the hazard is identified & safely disposed of, whereby restoring the scene may then involve specialised sanitisation, infection control measures, stain removal, & malicious odour abatement. This service may require the disposal of contaminated furnishings, flooring, beds & other porous material not suitable for remediation, though we aim to restore.
Owner's Responsibility

The owner of the premises is legally responsible for the overall cleanup of a biohazard incident & to ensure the welfare of occupants that may be exposed to a biohazard. If left unattended or unreported, bodily fluids such as blood, urine, vomit, sewage & faeces will often seep into porous materials & areas not easily identifiable to the untrained eye (crevices & flooring, etc), increasing the risk of exposure & making remediation cleaning difficult.
Impact of BioHazards

In any form, biohazards pose a real life threat to the personal safety of people & property. From loss of productivity by staff affected by poor indoor air quality  to actual exposure & infection incidents the risk to human health can not be underestimated or taken lightly. World health organisations now recognise that left untreated by qualified technicians the possibility of exposure increases exponentially affecting more people as a result of improper decontamination.
Blood Hazard Awareness

Blood hazards are known to carry highly infectious viruses & bacteria, where even in  'cleaned' surfaces these pathogens can exist. Blood residue can be found in syringes, urine, faeces, sewage, & other bodily fluids, cleaning with inappropriate treatments may remove the visual aspects of the contamination but the base residue of blood can remain for an indefinite period unless removed correctly. The breakdown of blood can release these pathogens into the air, as bacterial odours or air borne particulate blood from drying & adverse cleaning techniques, the risk of exposure is high for all persons in the vicinity of this biohazard.
Business Issues

Not all hazardous situations come down to an actual biohazard contamination that may affect your business, consider issues that may affect the health & productivity of your valued staff & clients attending your workplace, such as daily cleaning & maintenance.
The team at Blueys Cleaning Solutions is your partner in managing these issues & assisting you to identifying potential hazards, develop strategies to minimise the effects of these hazards & implement appropriate maintenance programs to protect your staff & clients. Visit our BLOG to discuss these issues further or contact your Biohazard Cleaning technician for a site appraisal on Ph. 1800925925
Offering PROFESSIONAL, DISCRETE AND METICULOUS Cleaning since 2008.